'I want to restore old printed photos of my grandparents. They are faded, torn, have developed cracks and watermarks over time. I sought the help of a professional photographer but he quoted too high for the job. Is there any way I can restore old photos on my own?'
Digital photos are long-lasting. Unlike old photos printed on paper, they are not sensitive to temperature, weather, or environment conditions. Whereas old printed photos over time may tear, fade or get dust, watermarks, cracks, or spots on them. These old photos are memories of your grandparents, parents, and loved ones, which you definitely want to keep for your life.
So How Can You Restore Such Old Photos?
The best solution to restore old photos is to turn them into digital copies. Scan the photo prints with the help of a scanner and save them on your Mac or Windows computers. Since these pictures have mostly lost their original quality, you can repair them and remove the imperfections – be it the loss of colors, marks, spots, or scratches, etc.
How to restore old photos on computers
Photo restoration may initially seem to be a big task. However, with so many tools available online, you can easily fix the quality issues in old photos yourself, for which a professional would charge steeply.
A photo restoration software restores stained and damaged images enhancing their overall quality, without you putting in any efforts. Some advanced software like Stellar Photo Recovery, not only repair old, corrupt, grainy, color loss, and broken photos but also recover deleted pictures from PC and Mac. Other than these, you may try Photo editing tools such as Adobe Photoshop and Irfan-View, for the purpose. In contrast to photo restoration software, photo editing tools require proficiency in using the platform.
Methods to restore old Photos on computer
Restore with photo restoration tool
Restore with photo editing programs
1. How to restore old photos by using Photo Restoration tool
Download old photos restoration tool – Stellar Photo Recovery Professional on your PC or Mac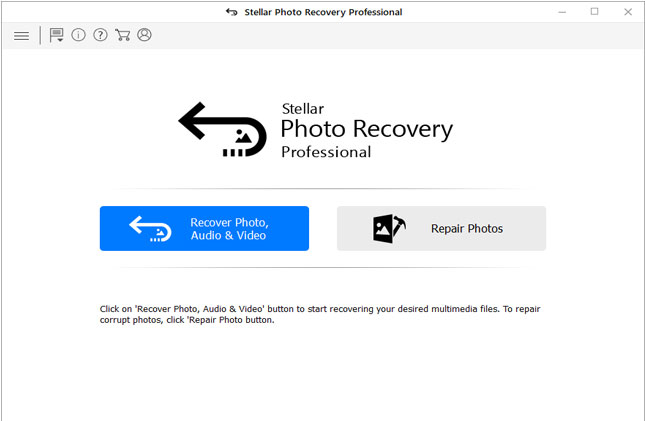 Select Repair Photos. (Use Recover Photos to get back deleted photos on PC/Mac)
Click Add File to add digital files of old photos
Select Repair
Preview and Save the repaired photos
The software can recover lost photos and repair the old ones, shot with any camera brand. You can restore multiple photos in one go, which is not possible with a photo editing program.
The photo restoration software is available for both Mac and Windows computers.
2. Restore by using photo editing software
There's no denying the effectiveness of photo editors. Programs such as Lightroom and Photoshop bring back life to the old, torn, and faded digital photos. But, these tools demand proficiency in using their features to get the best results.
Here we will take the example of popularly used Photoshop program.
Adobe Photoshop has varied retouch and repair tools that can fix old damaged pictures with spots, blemishes, red-eye, etc. You can do color correction, remove spots, blurriness, grains, and other unwanted marks from the photos. You can also recreate sections of the photo and fill in the damaged parts. 
Some efficient Photoshop features to restore the old damaged photos are Dust and Scratches filter, Noise filter, Healing Brush tool, Spot Healing Brush tool, Clone Stamp tool, The Patch tool, Lab Color Mode, and Red Eye tool.
You can visit Adobe's help at helpx.adobe.com to know how to use these features to restore your old photos.
How to restore deleted old photos on Windows and Mac
Did you lose or accidentally delete the old photos from your computer?
Before you seek help from a photo recovery software like Stellar Photo Recovery, look for your deleted photos in Recycle Bin or backup folder, if any.
If you are a Mac user, find the deleted old image file in Trash or Time Machine backup.
If you don't recover your lost images from these, then go for recovery software. Stellar Photo Recovery restores permanently deleted photos that are missing from Windows Recycle Bin or mac's Trash.
The software helps to restore old photos from any folder, hard drive, SD card, pen drive, etc., after deletion, formatting, or virus infection.
Wrapping Up
Image editing programs such as Photoshop are efficient and useful to restore old digital photos. Though not a beginner's cup of tea, Photoshop can bring new life to your old, worn, or faded digital photos.
On the other hand, photo restoration software is quick and easy to use. Even a novice with no technical know-how can fix old photos by using it. Some tools can also recover deleted photos from Mac or Windows computers.
However, which one is a better option for you, depends upon your requirements. Remember, a photo restoration tool is not a photo editor. It can fix color loss, grains, fades, broken, distorted and corrupt old digital images. But, you cannot change colors, brightness, blend, stitch or crop the photos in it, as you do in photo editors.